Current Category: Lasers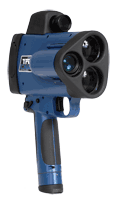 Laser Technology, Inc.
6912 South Quentin Street
Centennial CO 80112

Laser Speed Enforcement + Video Camera = Indisputable Evidence
A picture may be worth a thousand words, but a video tells the whole story.
LTI has integrated a laser with a digital video camera, making the LTI 20-20 TruCAM™ the most sophisticated speed enforcement tool available today. TruCAM is capable of enforcing multiple speeds and even captures hard to get motorcycles. It collects and stores a complete chain of video evidence for both speeding and tailgating, along with a high-resolution image that identifies vehicle make, model and license plate number, as well as the precise speed, distance, time, location and operator ID. Our patented technology acquires these critical measurements and backs them up with video and photographic evidence making all violations captured by the TruCAM practically indisputable. It can also defeat jam detectors and offers reliable data encryption that ensures your evidence is always secure.
The data it produces can feed into any Geographic Information System (GIS) framework. By utilizing GPS, it automatically generates location-based information every time the unit is used. This provides managers with historical data to determine why, where, when and how to deploy valuable human and capital assets in the future.
The TruCAM is more than a speed enforcement laser and video camera; it will change the way you think about photo traffic enforcement systems.
Phone:

303/649-1000

Additional Phone:

800/280-6113

Fax:

303/649-9710

Email:

padkins@lasertech.com

Home Page:

Categories:
Press Releases:

Laser Technology, Inc., IACP's National Law Enforcement Challenge Hosts Webinar to Help Save Lives, January 08, 2015


Product Specials:

Laser Technology, Inc., LTI 20/20 TruCAM Video Laser, February 13, 2015