Current Category: Bags, Custom (Fire & EMS)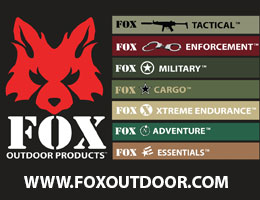 Fox Outdoor™
2040 N 15th Ave
Melrose Park IL 30160

WITH A PRODUCT LINE THIS COMPLETE, WHY WOULD YOU LOOK ANYWHERE ELSE.

Here at Fox Outdoor Products™, we design our product collection to fulfill the complete needs of today's industry professional. With a large distribution facility that houses a state-of-the art warehouse, shipping, and receiving facilities, Fox carry's everything from a full line of bags & packs, to personal protection vests and outerwear, to weapon transport systems and small novelties you should never go without. As a company, we are constantly striving to meet the needs of its diverse and ever-changing customer base, so before you go anywhere else, visit Fox Outdoor Products™!

Pick up a 2014 Tactical Catalog today! Fox Master Catalog will be Available in March!

Phone:

708/338-9200

Fax:

708/338-9210

Email:

admin@foxoutdoor.com

Home Page:

Categories: