Current Category: Badges, Shields & Identification Cards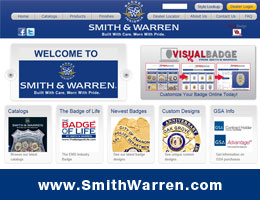 Smith & Warren
127 Oakley Ave
White Plains NY 10601

Smith & Warren® has been proudly manufacturing badges and uniform insignia in the United States since 1925. Every badge is manufactured in 3 weeks in a technologically advanced secure facility located in White Plains, NY. Smith & Warren® is also the Only Badge covered by a Full Lifetime Warranty.

Through extensive investments in engineering and manufacturing technology and acquisitions of other manufacturers, Smith & Warren® has integrated operations to our White Plains facility and expanded our product line to include over 900 customizable badge styles and over 5000 center seals with new models added regularly. With VisualBadge™ you can choose from hundreds of Smith & Warren® badges styles, thousands of center seals, customize and preview your badge online.

Smith & Warren® is your source for Badges, Insignia, Medals, Awards, Collar Insignia, Nameplates, Challenge Coins, Pins, and accessories. Trust Smith & Warren® for Undeniable Quality, Unbeatable Delivery and Unmatched Services.

Phone:

914-948-4619

Fax:

914-948-1627

Email:

Contact@smithwarren.com

Home Page:

Categories: