Current Category: Training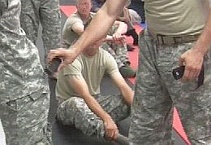 Torfino Enterprises Inc
12520 Capital Blvd Ste #401-112
Wake Forest NC 27587

METAL-TEC Factory Training & Certification Correspondence Course
Become a certified trainer to train within your agency or department in the proper implementation & use of the METAL-TEC.

This course is for Trainers wishing to implement METAL-TEC within their department or agency, join the over 3,550 trainers already certified.

Course includes Video, Workbook and final exam. Upon successful completion of the course you will receive a Lifetime Trainer's Certificate. Order the complete correspondence course for only $99, and complete this open book course at your leisure.

Learn how to incorporate the METAL-TEC into your SOP standards to conduct a more thorough search for concealed weapons. Learn to improve officer safety, and reduce liability by implementing the METAL-TEC. Now each officer in your department can conduct a more thorough search for weapons on subjects in the field.

Some of the topics covered:
• Determining the density, shape and size of the metal object to help identify the object's threat level • Pinpoint the location of metal objects • Search opposite sex and juvenile subjects using minimal contact • Locate weapons concealed behind smaller metal objects in clothing • Locate nonmetallic objects using probing and tapping techniques • Addressing the Issues of the " Terry Pat Down " • Eject objects out of subject's pockets using the METAL-TEC.
Phone:

1-800-TORFINO (867-3466)

Additional Phone:

561-790-0111

Fax:

561/790-0080

Email:

info@torfino.com

Home Page:

Categories: